Welcome to the Cherokee Rose Quilt Guild Website

Since 1990, a group of avid quilters have been meeting in Douglas County to learn more about quilting, to share their love of quilting with the community, and to build long-lasting friendships. Our meeting place is very central to Douglas County and metro Atlanta.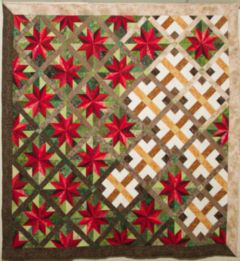 This is a picture of the group quilt made with love and donated by the Cherokee Rose Quilters Guild and is hanging at the Southeastern Quilt & Textile Museum. The museum is located at 306 Bradley Street, Carrollton, GA 30117. You can call them at(770)301-2187. This quilt was sewn in sections in 2010 by the guild members and then put together at another meeting.
The quilting was done by Broach Winsley.


The pattern "Easy Peasy", is from the book "A passion for Piecing" by Claudia Clark Myers.Click the photo for a larger image.
All Visitors are welcome to the meetings. If you have contacted us through the website and haven't heard back within 48 hours then please check your spam folder. Also make sure you put your correct email address on the form if you contact us again.
Today, we are a group of women and men who:
Range in ages.
Make Art quilts, Civil War reproductions, baby quilts, bright and bold, modern quilts, king size bed quilts, wall quilts and more
Hand piece, hand quilt and hand applique. We use our sewing machine(s) for piecing, quilting, embroidery and applique
Live everywhere from Atlanta to the Alabama line
Our skill levels range from beginner to advanced
Visitors are welcome to all meetings. Please, come join us! We have day and night meetings to accommodate those who work or have young children at home. Meeting Location and times are listed on the meetings link here.
Please visit the various links that you find on this page, this is the best way to visit the guild online and see all the activities we have coming up throughout the year as well as all the fun we have had in past meetings, workshops, trips to various shops and of course we always find time to share laughter along the way. You do need to be a current paid member to access the Minutes, Newsletter and Featured Member Links.